THE VILLA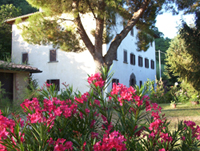 In the heart of Tuscany, equidistant from the cities of Pisa, and Siena, 70 km from Florence, stands the Agriturismo Villa di Valle; immersed in a still uncontaminated and green countryside, rich in natural springs and springs, also very close to the town of San Gimignano on one side and the Etruscan Coast on the other
The Villa di Valle farmhouse covers a total area of ​​about 8 hectares at a distance of 1.5 km from the historic center of Volterra.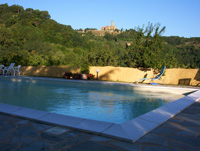 In the 800, around the villa arises numerous constructions, many of them are still present: the chapel, the tinaio, the barn,  the frantoio, the oven (recently restored and perfectly working), and some farmhouses, one of which, currently in phase of recovery.
Later it becames property from the Cangini family that used
Villa like its country home
. In 1982, the villa was acquired by the Mascagni Borghi families and it has been completely restructured and subdivided into apartments.
From the Villa
it's possible to enjoy a landscape characterized by a thick and luxuriant vegetations and by the evocative sight of church dedicated to the
patron sainst of Volterra Giusto and Clemente.
The property is extending for many hectars and offers the possibility to take a walk in the chestnut wood the only in the outskirtses. During the Autumn it will be nice to collect  chestnuts and mushrooms.
Orchards,
olive groves and vineyards
, allow to enjoy the typical products of the estate:
 olive oil, wine,
chestnuts, walnuts and fresch fruits with with to prepare delicious jams.